2018 High School Student Production Awards
May 23- Congratulations to our student Nominees and Recipients.
2018 Mid-Atlantic Regional Emmy® Awards
The final entry deadline for our 2018 competition was April 27 at 8pm– Entries are no longer being accepted.  All fees are now due!  Nominees will be announced in August and the awards will be presented October 13, 2018 at the Philadelphia Marriott.
Donate to our scholarship fund
Please join us in supporting our next generation of broadcasters.  Make a donation to our high school scholarship fund through GoFundMe or through Emmy Express.
New Board Members and Officers
The Board of Governors will soon elect new Officers to join the new Governors elected by the membership.  Check your email for your link to vote soon.  Learn more about our Chapter Leadership here.
2017 Meet the Philadelphia News Directors
Thank you to everyone who participated in our Meet the Philadelphia News Directors event on March 7, 2017 at Drexel University.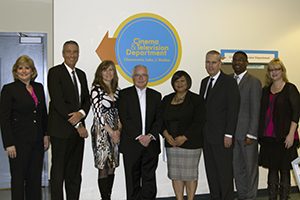 Susan Buehler (NATAS National Trustee),
Tom Davis (6abc), Margaret Cronan (CBS3),
Steve Butler (KYWNewsradio), Sandra Clark (WHYY TV),
Jim Driscoll (FOX29), Anzio Williams (NBC10),
Michelle McHugh (NATAS Mid-Atlantic President)