APRIL 1, 2021 — MARCH 31, 2022
no entries accepted after this date
August 9, 2022
Virtual presentation

college awards presentation
EMMY® awards presentation
loews philadelphia Hotel- october 1
2022 call for entries- FEBRUARY 28 Entries accepted March 4- April 29, 2022
2022 EMMY® ENTRY DEADLINE
Discounted fee deadline 4/8
MARCH 31, 2022

High school entries-
due march 1
CONTEST RULES, CATEGORY LIST AND FAQS:
2022 mid-atlantic regional EMMY® AWARDS
The deadline for entry submission was April 29.  Nominees will be announced in August and the awards will be presented at the Loews Philadelphia Hotel on October 1, 2022.  Good luck to all of this year's entrants! 
View the full list of the 2021 Mid-Atlantic Emmy® Award Recipients.
Click here for the list of 2021 College/University Production Award Recipients. 
The success of the Emmy® Awards process depends on the willingness of qualified professionals to serve as judges. Peers in other NATAS Chapters are serving this Chapter's entrants. This Chapter will judge other Chapter's entries. By entering, you agree to serve as a judge when asked. Failure to judge may lead to loss of membership discounts. Multiple entries each year will result in having to judge multiple categories.
2022 call for entries (available march 1)
open to all students in the Mid-atlantic region
If you were paid for your work, you are not eligible for our student awards but you may be able to submit your entry in the Mid-Atlantic Emmy® Awards competition.
All entrants must be a member or set up a FREE user account to be listed as an entrant.(A student membership account is not required, but costs only $10.)
Other contributors can be acknowledged for a nomination/award by purchasing a plaque or certificate.
CONTEST RULES, CATEGORY LIST AND FAQS:
APRIL 1, 2021
through

march 31, 2022
during the mid-atlantic regional emmy® awards October 1, 2022
Processing fee: $30 per entry
Entries include up to 12 names

Once you have your account:
Winning entries receive a beautiful glass academy pillar for their school. Individual student pillars can be ordered after the ceremoney in our chapter store:
2020 Mid-Atlantic Regional Emmy® Show
Academy Nomination Plaque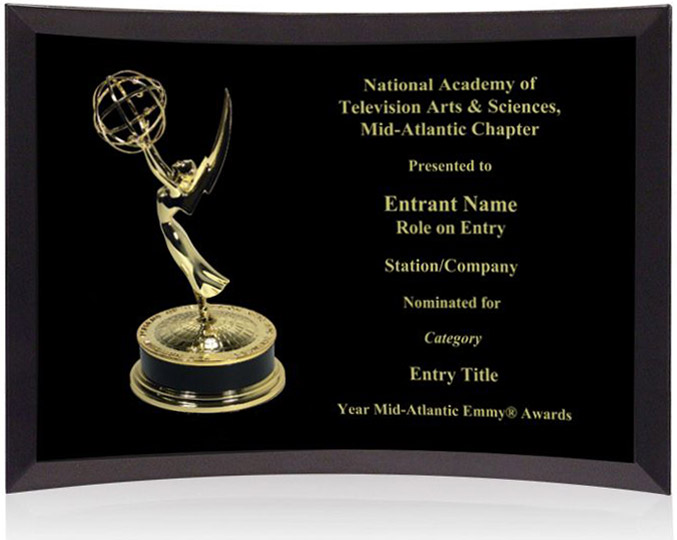 Celebrate your nomination with a beautiful
Academy Nomination Plaque
Thank you to our sponsors
Donate to our scholarship fund
The "Next Gen Media Scholarship Fund" supports high schools and high school students from our region. Please join us in supporting our next generation of broadcasters.
Board Members and Officers
Learn more about our Chapter Leadership:
Looking for other career opportunities?
Visit our Job Bank:
Join NATAS and receive access to exclusive member benefits, including discounted entry fees, and access to programs. Visit our membership section for more information: