2018 Mid-Atlantic Regional Emmy® Awards
The 2018 Mid-Atlantic Regional Emmy® Awards will be presented on Saturday, October 13, 2018.  We are now placing all names on a waiting list as we are near capacity.  Our goal will be to find a seat for all our Nominees. Reserve your seat at Emmy Gala and we will confirm your attendance by October 1.
Hotel: A limited number of discounted hotel rooms are available at the Philadelphia Marriott through 9/18.  Rooms are first come, first served.  You can book online at Marriott Reservations or call the hotel at 215-625-2900.
Nominees: Click here for the distinguished list of 2018 Emmy® Nominees.  Click here for the list of College/University Nominees.  View our photo gallery.  Congratulations!
Thank you!  To our party host locations: The Grand Ballroom at First District Plaza, WLVT, WITF and WQED Multimedia.
Donate to our scholarship fund
Please join us in supporting our next generation of broadcasters.  Make a donation to our high school scholarship fund through GoFundMe or through Emmy Express.
New Board Members and Officers
Congratulations to our new Board of Governors. Learn more about our Chapter Leadership here.
Job Bank: Looking for other career opportunities?  Visit our Job Bank.
2017 Meet the Philadelphia News Directors
Thank you to everyone who participated in our Meet the Philadelphia News Directors event  at Drexel University.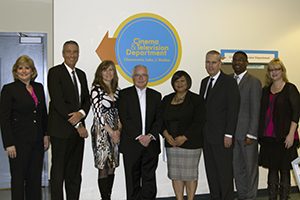 Susan Buehler (NATAS National Trustee),
Tom Davis (6abc), Margaret Cronan (CBS3),
Steve Butler (KYWNewsradio), Sandra Clark (WHYY TV),
Jim Driscoll (FOX29), Anzio Williams (NBC10),
Michelle McHugh (NATAS Mid-Atlantic President)