The Silver Circle Society is an honor society within our chapter for members who have spent 25+ years working in pursuit of our profession's highest and most noble goals.  It is our intent to recognize those people in a television station, cable channel, or production house who have been a reliable, valued colleague, a respected mentor, a creative contributor, diligent advocate for the audience, or an ambassador within your market for the television industry.  Our committee meets to consider new candidates each spring.  Nomination forms are due each year by May 1.
– To nominate a candidate with 25+ years, please fill out the Silver Circle Nomination Form.
– For those with 50+ years fill out this Gold Circle Nomination Form (see Gold Circle page).
Class of 2023 Silver Circle Inductees:
Natasha Brown (CBS3)
Jon Burnett (KDKA)
Jaciel Cordoba (WFMZ)
Robb Hanrahan (WHP)
Dan Henninger (WTAE)
Candice Kelly (WBRE)
John Mussoni (WHYY/Comcast/FOX29/NBC10)
Dennis Owens (WHTM)
           Past Silver Circle Honorees
Carl Abraham (WNEP)- 2020
Cesar Aldama (NBC10/CBS3)- 2019
Chris Brady (CBS3)- 2014
Trudi Brown (WHYY)- 2017
Paul Byers (WQED)- 2021
Pat Ciarrochi (CBS3)-2015
Michael Challik (KDKA)- 2017
Charles Clark (WGAL)- 2021
Kathy Craine (WFMZ)- 2016
Dave Crawley (KDKA)- 2019
George Cummings (Temple University)- 2016
James DePury (WPMT/WBRE/NATAS)- 2018
Ray Didinger (NBC Sports)- 2022
Joyce Evans (FOX29)- 2021
Paul Gluck (Temple University)- 2015
Bruce Gordon (FOX29)- 2019
Harold Hayes (KDKA)- 2016
Lynne Hayes-Freeland (KDKA)-2019
Mark Hiller (WBRE)- 2018
Tim Holoman (WPXI)- 2017
Charlene Horne (CBS3)- 2020
Dick Hoxworth (WGAL)- 2017
Jeff Hughes (WPSU)- 2014
Ralph Iannotti (KDKA)- 2020
Mary Robb Jackson (KDKA)- 2017
Mark Johnston (WPXI)- 2019
Guy Junker (WTAE)- 2022
Pete Kane (NBC10)- 2014
Michael Lazorko (WTAE)- 2015
Jessica Lee (WLVT)- 2021
Kim Lemon (WGAL)- 2018
Jennifer Lewis-Hall (WPHL)- 2022
Gregg Mace (WHTM)- 2019
Amy Marcinkiewicz (WPXI)- 2021
Kevin Martorana (Take One Productions)- 2016
Chris Moore (WQED)- 2018
Pierina Morelli (WQED/KDKA)- 2016
Rick Minutello (WPXI)- 2022
Brad Nau (CBS3)- 2020
Vernon Odom (WPVI)- 2021
Aviva Radbord (KDKA)- 2014
Marty Radovanic (WJAC)- 2022
Chuck Rhodes (WHTM abc27)- 2015
Tim Rigby (WJAC)- 2021
Dave Rupp (WGAL)- 2020
Joel Sanders (FOX29)- 2016
Patty Satalia (WPSU)- 2019
Dave Schratweiser (FOX29)- 2017
Glenn "Hurricane" Schwartz (NBC10)- 2021
Minette Seate (WQED)- 2022
Jimmy Seech (WQED)- 2014
Janice Selinger (NATAS/NJ)-2017
Sue Serio (FOX29)- 2018
Vai Sikahema (NBC10)- 2020
Grover Silcox (WLVT)- 2019
Dee Thompson (WPXI)- 2015
Ray Tipton (NBCSp)- 2018
Bill Wallace (WPSU)- 2018
Renee Wallace (WPXI)- 2020
Frank Warninsy (WQED)- 2014
Brenda Waters (KDKA)- 2021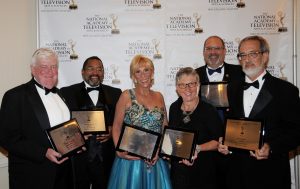 2016 Silver Circle Recipients (L to R): George Cummings, Harold Hayes, Kathy Craine, Pierina Morelli, Kevin Martorana, Joel Sanders