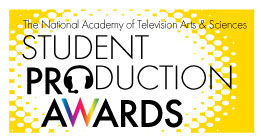 NATAS offers two student competitions: The Mid-Atlantic High School Production Awards for Excellence and The Mid-Atlantic College/University Production Awards for Excellence.  Our student awards charge a $30 administrative fee per entry and allow up to ten student names to be included.
Congratulations to our student award recipients.  To order individual awards, visit our Chapter Store.
Our high school student entries are due Friday, February 26, 2021.  The entries are judged by industry professionals.  The awards are presented at an educational day for students.  For more information on how to enter the competition, click here.  To submit your entries, click here.
The high school student production awards are open to all high school students in the Mid-Atlantic region (PA, NJ and northern DE as well as the Wheeling/Stuebenville DMA).  NATAS Mid-Atlantic supports future industry professionals by recognizing the talented high school students with the High School Student Production Awards for Excellence.  We award $1000 as the Trently Prize for the school that wins the Newscast category.  We also provide a total of $1500 in scholarship money to the winner of the PSA category (The Norman Felsenthal Young Producer's Award).  Additional pillars are available for purchase for all students named on a winning entry.
Our college/university awards are accepted through April of each year.  The 2019 deadline is April 26.  The college awards will be presented at the Mid-Atlantic Emmy® Awards ceremony on Saturday, September 28, 2019, at The Wyndham Grand Pittsburgh.