Regional Students Nominated for National Student Award

Congratulations to Parkland High School students Mary Dalton and Graham Burrell who were recognized as National Student Production Award Nominees for their entry "Cruising Over Cancer" in the "General Assignment- Serious" category. Dalton, Burrell and advisor Dave Thomas were awarded the chapter's Student Production Award in May and now compete Nationally for the same honor. The awards presentation will be live-streamed from the Los Angeles campus of Emerson College on Tuesday, October 3rd at noon, PDT and will be hosted by television personality, Tom Bergeron, star and host of ABC's "Dancing with the Stars." Viewing of the presentation can be seen at the following: NATAS/National Student Production Awards: https://www.facebook.com/NATASSPA. Read more about the National competition and see the full list of National Nominees here.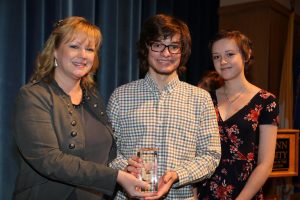 Congratulations to our Mid-Atlantic Chapter 2017 Student Production Recipients.
To view the 2017 Mid-Atlantic High School Production Award Nominees, click here.
Thank you to all who attended our educational awards day for students May 4 at Neumann University's new Mullen Media Center. A special thank you to Neumann University's Communications and Digital Media program for hosting our event as well as our speakers:
Marie Cusick, WITF
Marshall Harris, Comcast SportsNet
Doug Watson, WITF
Dan Stamm, NBC10
Photo Montage of 2017 Student Production Awards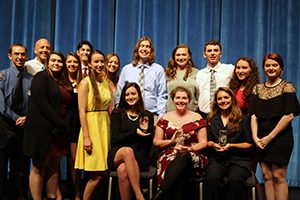 Click here to play video.
Purchasing Pillars
If you wish to purchase a personalized pillar awards, click here.
Photo Gallery
To view our photo gallery, click here.
Frequently Asked Questions
For a student membership for just $10, click here.
For a user account to access the entry system, click here.
Need a video reset so you can upload again?  Request here.
Award winners wishing to purchase personalized awards, click here.